The excitement of closing on a new home is so invigorating that you sometimes forget the work that comes next. What should go in these cabinets? Does a sectional look good there? Should we get an air fryer?
Amid all the fluster, having an unregistered address and not receiving mail could quickly disrupt your lifestyle and complicate your new home move-in. To help homeowners adjust to their new communities, we wrote this guide on how to register your new home address with the local government, parcel services, and Google Maps.


Before you get started
Before you even move into your new home, contact your real estate agent or online sales counselor and double-check that your home address is up-to-date and registered with the local government. Ask for copies of official documents that show your home address, including a homesite plan and plat map.
Google your new home address and see that the street name, house number, ZIP code, city, and state are all correct. You can click on directions to make sure everything is consistent. Now is the time to re-route any current or upcoming deliveries until you are fully certain your new construction home has been registered.



For UPS, visit a local branch and ask a UPS representative about holding or forwarding your mail until your new home address is registered. FedEx has similar features that allow customers to hold mail for up to 14 days and even re-route your packages for a fee.
Once you gather all the current information on your new home and set up mail delivery and holding, it will be much easier to follow the steps below.


Register your new construction home address with all the right information
The first thing you need to do to register your new home address is to gather all the information that proves you and your property are legitimate, such as:
Personal information:
Driver's license or state ID

Birth certificate or proof of citizenship

A U.S. permanent resident ID

A U.S. passport
Home information:
Land deed

Title

Plat map with coordinates

Site plan

Map of the surrounding area

Latitude and longitude







How to register your new construction home address with the local government
Home addresses are determined by the local government where your land is located. This is important so that services such as 911 or the fire department can respond immediately to emergencies.
Before you register an address with USPS or other parcel services, verify that your home address is validated by the city. Here's how:
Contact the local government office responsible for assigning addresses in your area.


Provide the agency with the address, lot number, and any other relevant details of your new construction home. You may also need to provide proof of ownership or a building permit.


The agency will assign an address to the new construction home based on the local addressing system. This may involve following a specific numbering pattern or using a specific street name.


Once the new address is assigned, you will need to update your records with any relevant organizations, such as the post office, utility companies, and emergency services.



You may also need to display the new address on the property, such as with a visible address number on the front of the building.

Although these steps can vary widely depending on your location, your local government must be your first point of contact.




How to register your new home address with couriers
The last thing new homeowners want to hear is that their new barstools were returned or delivered to the wrong address. Avoid this early frustration by registering and validating your new home address with parcel services you use such as USPS, UPS, and FedEx.
Before all else, make sure your address is displayed clearly outside your home and your mailbox is easy to find.
United States Postal Service
Since The United States Postal Service is operated by the federal government, your address should be added automatically when you register with the local government. This isn't always the case, however. Lapses in communication or timing can mean your packages are delivered before USPS knows your home exists. If this is the case, follow these steps to make sure you get your mail at the correct location:
Take your personal information and new home documents to your nearest post office and ask to speak with the Postmaster.


Register a mailing address with your personal information, deed, and title.


Update your address using a Change-of-Address Form to ensure you get your mail and packages.


Confirm with the Postmaster when you should start receiving mail at your new home address.



Update your contact information with courier services like UPS, FedEx and Amazon by logging into each account and updating your new home address.

This is the fastest way to register your address and receive your mail. In most cases, you may be able to set up a P.O. box until USPS verifies your address.


Add your new home address to Google and Bing
While Google is not an official courier, they have possibly the most expansive location and address data worldwide. Google uses multiple sources to gather data about street names, business locations, and your exact home address. Oftentimes, new homes are built and people move in before Google has a chance to add the address. In this case, you can manually submit your address and pin location to Google.
Follow these steps to register your address on Google Maps: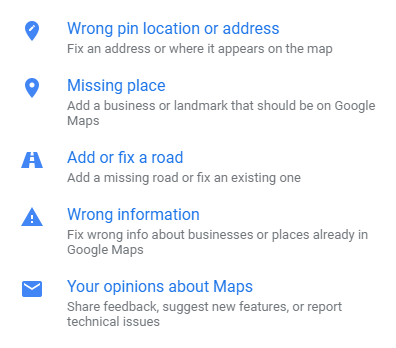 Sign in or create an account on Google.


Go to Google Maps and enter your address.


Click the Menu icon on the right side of the search bar (three horizontal lines).


Click "edit the map."


If street names exist, click on "Wrong pin location or address."


Enter your address information. Be sure to write out your entire address and leave no abbreviations such as blvd., st., ln., and so on.


Additionally, click on "Edit map location."



Drag the pin to the exact location of your home and submit.

You've officially submitted your address to Google for review!
Be on the lookout for correspondence from Google to your email address.
While Bing sources their map data from TomTom, you can still report an issue for a missing home address with these steps.
Sign in or create a Microsoft account.


Once you're signed in, search for your home address in the search bar on the Bing Maps home page.


When your home location appears on the map, click on the "feedback" button on the right-hand side of the screen.


On the pop-up menu, click on the "select the problem area" dropdown menu and click "Issue with (your home address)."


Then under "Give us a little more information," select "Address is missing from the road."


Enter your home address and any more relevant information, then click Send.


Now that you have reported your missing address, check your email frequently for a response from Bing or try searching for your address again after a few days.


---

Now you can enjoy your newly registered home address!
Once you follow these steps, enjoy the peace of mind that comes from a functional, legitimate street address—no more missed deliveries or wrong directions. The last thing you need to do is make sure your address is in a highly visible location on your property for visitors and carriers.