Century Complete
|
Richmond, IN 47374
The Arbors
1 Floor Plans Available
Quick Move-In Homes Available
Arbor Dr,
Richmond, IN 47374
317-207-7195
Sales Office Hours
Sales Office Hours
Monday 10:00 AM - 7:00 PM
Tuesday 10:00 AM - 7:00 PM
Wednesday 10:00 AM - 7:00 PM
Thursday 10:00 AM - 7:00 PM
Friday 10:00 AM - 7:00 PM
Saturday 10:00 AM - 7:00 PM
Sunday 10:00 AM - 7:00 PM
New homes in Richmond, Indiana
Studio Information:
Indianapolis Studio
6330 East 75th Street, Suite 178
Indianapolis, IN 46250
Phone: 317.207.7195
The Arbors boasts quality new homes for sale in Richmond, Indiana, built by Century Complete—a national leader in online homebuying. Conveniently situated along U.S. 40, Richmond, Indiana is known for its rich pioneer history, breathtaking natural beauty, destination antique shopping and renowned restaurants. For recreational enthusiasts, Richmond offers an abundance of outdoor recreation opportunities—biking, parks, lakes and hiking trails. Explore an inspired variety of two-story floor plans with pristine finishes and thoughtfully designed open-concept layouts. Find your new home in Richmond, Indiana at The Arbors today.
Buy online today!
Lock in your new home through our convenient and completely online Buy Now process.
207 S 34th Street | Lot 0001
1802
Single Family Home
1,811 sq ft
4 br
3 ba
2 bay
Inspired home designs
Check out quality layouts that may be available for purchase at this community today!
1802
Single Family Home
1811 sq ft
4 br
3 ba
2 bay
Request Information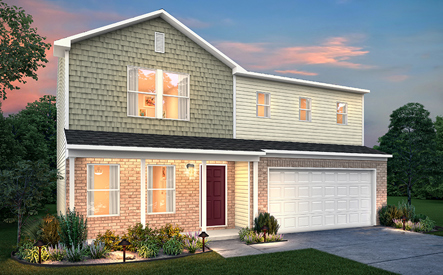 The Arbors
Arbor Dr
Richmond IN 47374