Choosing a new home is an exciting journey, and we understand that the experience should be as seamless as possible. That's why we pride ourselves on innovative designs, a best-in-class homebuying experience, modern living solutions, and exceptional customer service.
Looking to purchase your own new construction home? Here's what you can expect.
The Thrill of a Brand-New Home
When you buy a new construction home with us, everything you step into is, to turn a phrase, fresh off the canvas. You'll be the first to experience every aspect of your new home—from the scent of fresh paint to pristine fixtures. This novelty not only adds an exclusive charm but also eliminates any concerns about renovating and fixing up old and worn-out appliances.
A Commitment to Energy Efficiency
Like other contemporary homebuilders, we leverage modern, energy-efficient technologies. You can anticipate a home that is not just friendlier to the environment than many used homes but also one that might help reduce your utility costs. Your new home could include advanced features such as LED lighting, high-efficiency HVAC systems, and insulation-maximized windows.
Innovative Designs and Open Floor Plans
We understand the allure of open spaces with natural light and design our homes to reflect these modern preferences. Beautiful windows and a seamless flow between the kitchen and living areas encourages a sense of community by keeping everyone together as meals are prepared or guests gather for conversation.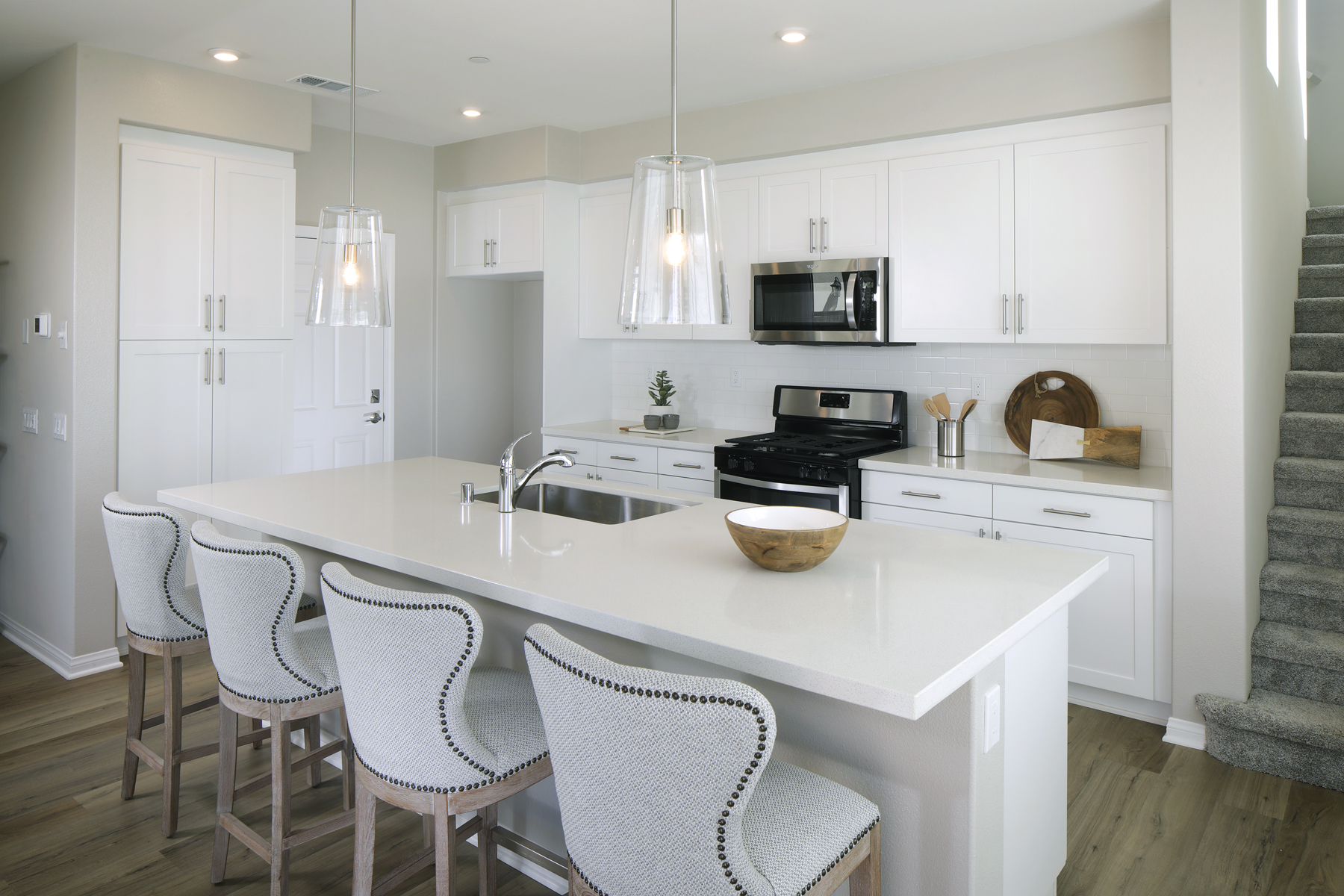 Integration of Smart Home Technology
In the age of digitization, new homebuilders are integrating convenient and efficient smart home technology into their homes. We're no exception. From smart locks to smart thermostats, the aim is to enhance your lifestyle and make your home more functional.

Learn about our Century Home Connect® smart home system →
A noteworthy benefit of purchasing from a new construction homebuilder is warranty protection against many unexpected problems during a set period of coverage.
Community Living with Added Perks
Some of our homes are part of planned communities that offer access to neighborhood facilities like parks, pools, and rec centers.
Navigating Construction

Timelines
We understand that construction can sometimes face unforeseen delays due to factors like weather, labor shortages, or material supply delays. As part of our commitment to open and honest communication, we strive to keep you informed and work hard to meet our commitments. We also encourage all homebuyers to ask questions about the process, timelines, and what specifically is included in the price of their new home.
The Ease of Online Homebuying
Prefer to shop and purchase when and where you choose from your laptop or phone? You're certainly not alone. To make your house-hunting experience as streamlined as possible, we're proud to feature our industry-first online homebuying experience on all available homes.
Discover our online homebuying experience →
---
Armed with these insights, you're all set to embark on the exciting journey of buying a new home with one of the nation's top homebuilders. Start your journey today and find a modern and beautiful new space that you can truly call home.