Century Complete
|
Lexington, NC 27295
Twin Silos
Single Family Homes
2 Floor Plans Available
Swing Dairy Rd & Clark St,
Lexington, NC 27295
336-889-0095
Sales Office Hours
Sales Office Hours
Monday 10:00 AM - 7:00 PM
Tuesday 10:00 AM - 7:00 PM
Wednesday 10:00 AM - 7:00 PM
Thursday 10:00 AM - 7:00 PM
Friday 10:00 AM - 7:00 PM
Saturday 10:00 AM - 7:00 PM
Sunday 10:00 AM - 7:00 PM
New houses in Lexington, North Carolina
Studio Information:
High Point Studio
1225 Eastchester Drive
High Point, NC 27265
Phone: 336.889.0095
Welcome to Twin Silos, a new home community, featuring inspired new houses for sale in Lexington, NC, from Century Complete—a national leader in online homebuying. Conveniently situated near I-85, Twin Silos is a short drive from prime regional economic and entertainment hotspots in Winston-Salem and High Point. Lexington is a great place to live, offering an array of local activities, such as a historic downtown district, furniture stores, art galleries, music, dining, wineries and year-round community events. Recreational enthusiasts will enjoy visiting scenic outdoor destinations—including Finch Park and Lake Thom-A-Lex Park—plus playgrounds, aquatic parks, trails and much more. Check out these Davidson County houses for sale—showcasing beautiful floor plans with contemporary open-concept layouts and modern included features—and start your dream home journey today!
Inspired home designs
Check out quality layouts that may be available for purchase at this community today!
DUPONT
Single Family Home
1774 sq ft
4 br
3 ba
2 bay
ESSEX
Single Family Home
2014 sq ft
4 br
3 ba
2 bay
Request Information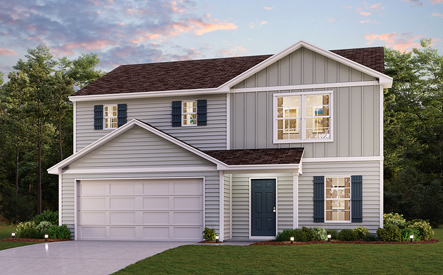 Twin Silos
Single Family Homes
Swing Dairy Rd & Clark St
Lexington NC 27295