Century Complete
|
Stantonsburg, NC 27883
Wainsfield
Single Family Homes
3 Floor Plans Available
Adam St & Hazel Dr,
Stantonsburg, NC 27883
919-786-9795
Sales Office Hours
Sales Office Hours
Monday 10:00 AM - 7:00 PM
Tuesday 10:00 AM - 7:00 PM
Wednesday 10:00 AM - 7:00 PM
Thursday 10:00 AM - 7:00 PM
Friday 10:00 AM - 7:00 PM
Saturday 10:00 AM - 7:00 PM
Sunday 10:00 AM - 7:00 PM
New homes in Stantonsburg, North Carolina
Studio Information:
Knightdale Studio
1016 Shoppes at Midway Drive, Suite E
Knightdale, NC 27545
Phone: 919.786.9795
Welcome to Wainsfield, a new home community featuring inspired new houses for sale in Stantonsburg, NC by Century Complete, a national leader in online homebuying. Situated near Highway 58, Stantonsburg provides easy access to regional employment and cultural hubs in Wilson, Greenville, Goldsboro and the Seymour Johnson Air Force Base. Stantonsburg boasts quiet small-town living and an abundance of local activities, including dining, theaters, shopping and year-round events, such as the annual Crepe Myrtle Festival. You'll also love the outdoor recreational opportunities at nearby Lake Wilson and Wiggins Mill Reservoir. Wainsfield offers a versatile selection of open-concept plans with modern included finishes. Explore these exceptional new houses for sale in Wilson County, NC and start your dream home journey today!
Inspired home designs
Check out quality layouts that may be available for purchase at this community today!
1201
Single Family Home
1201 sq ft
4 br
2 ba
1 bay
1401
Single Family Home
1405 sq ft
3 br
3 ba
1 bay
1601
Single Family Home
1603 sq ft
3 br
3 ba
1 bay
Request Information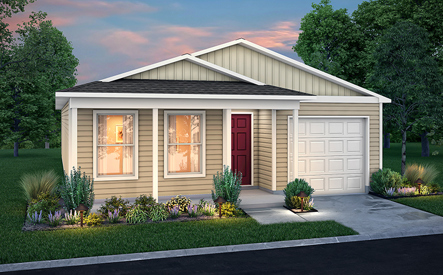 Wainsfield
Single Family Homes
Adam St & Hazel Dr
Stantonsburg NC 27883