Century Complete
|
Wittmann, AZ 85361
Lee Homes
Single Family Homes
2 Floor Plans Available
US Hwy 60 & N Poplar St ,
Wittmann, AZ 85361
520-308-6195
Sales Office Hours
Sales Office Hours
Monday 10:00 AM - 7:00 PM
Tuesday 10:00 AM - 7:00 PM
Wednesday 10:00 AM - 7:00 PM
Thursday 10:00 AM - 7:00 PM
Friday 10:00 AM - 7:00 PM
Saturday 10:00 AM - 7:00 PM
Sunday 10:00 AM - 7:00 PM
New homes in Wittman, Arizona
Studio Information:
Casa Grande Studio
917 N. Promenade Parkway, Suite 105
Casa Grande, AZ 85194
Phone: 520.308.6195
Discover exceptional homes for sale in Wittmann, AZ from Century Complete—a national leader in online homebuying. Nestled in the northwest corner of the Phoenix metro area, Lee Homes sits in the heart of Wittmann, boasting a small-town feel combined with close proximity to prime employment and cultural hubs in Surprise and Phoenix. You'll love the abundance of local recreational activities, including kayaking, boat tours, canoeing, golf courses and the scenic White Tank Mountains. Choose from one-story floor plans with inspired open-concept layouts and modern included features. If you're looking for new homes for sale in Wittmann AZ, look no further. Check out all that we have to offer at Lee Homes today!
Inspired home designs
Check out quality layouts that may be available for purchase at this community today!
1001
Single Family Home
1000 sq ft
3 br
2 ba
1 bay
1201
Single Family Home
1201 sq ft
4 br
2 ba
1 bay
Request Information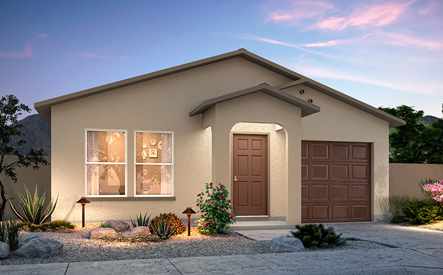 Lee Homes
Single Family Homes
US Hwy 60 & N Poplar St
Wittmann AZ 85361