Century Complete
|
Eloy, AZ 85131
Picacho Heights
Single Family Homes
6 Floor Plans Available
S Picacho Heights Rd,
Eloy, AZ 85131
520-308-6195
Sales Office Hours
Sales Office Hours
Monday 10:00 AM - 7:00 PM
Tuesday 10:00 AM - 7:00 PM
Wednesday 10:00 AM - 7:00 PM
Thursday 10:00 AM - 7:00 PM
Friday 10:00 AM - 7:00 PM
Saturday 10:00 AM - 7:00 PM
Sunday 10:00 AM - 7:00 PM
New homes in Eloy, Arizona
Studio Information:
Casa Grande Studio
917 N. Promenade Parkway, Suite 105
Casa Grande, AZ 85194
Phone: 520.308.6195
Picacho Heights is located in Eloy, AZ with offers easy access to the freeway for commuters and just a short drive from downtown Eloy. Picacho Heights has great views of nearby Picacho Peaks and the surrounding mountain areas where you can enjoy hiking and other outdoor activities.
Inspired home designs
Check out quality layouts that may be available for purchase at this community today!
1001
Single Family Home
1000 sq ft
3 br
2 ba
1 bay
1202
Single Family Home
1200 sq ft
3 br
2 ba
2 bay
1326
Single Family Home
1326 sq ft
3 br
2 ba
2 bay
1402
Single Family Home
1400 sq ft
4 br
2 ba
2 bay
1517
Single Family Home
1517 sq ft
4 br
2 ba
2 bay
1612
Single Family Home
1603 sq ft
4 br
2 ba
2 bay
Request Information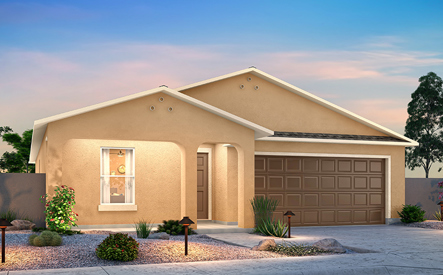 Picacho Heights
Single Family Homes
S Picacho Heights Rd
Eloy AZ 85131