Century Complete
|
Connersville, IN 47331
Tarkington Heights
Single Family Homes
3 Floor Plans Available
12th St & Deer Trl,
Connersville, IN 47331
317-207-7195
Sales Office Hours
Sales Office Hours
Monday 10:00 AM - 7:00 PM
Tuesday 10:00 AM - 7:00 PM
Wednesday 10:00 AM - 7:00 PM
Thursday 10:00 AM - 7:00 PM
Friday 10:00 AM - 7:00 PM
Saturday 10:00 AM - 7:00 PM
Sunday 10:00 AM - 7:00 PM
New homes in Connersville, Indiana
Studio Information:
Indianapolis Studio
6330 East 75th Street, Suite 178
Indianapolis, IN 46250
Phone: 317.207.7195
Thanks to its prime location near outdoor recreation —like Shrader-Weaver Woods and Mary Gray Bird Sanctuary— you'll have access to some of the most scenic nature trails in Indiana. Or immerse yourself in the town's rich history by visiting the Fayette County Historical Museum and the Whitewater Valley Railroad. With beautiful new homes from the low $200's, you'll love everything that life at Tarkington Heights has to offer.
Buy online today!
Lock in your new home through our convenient and completely online Buy Now process.
1109 Doe Springs Court | Lot 0126
1802
Single Family Home
1,811 sq ft
4 br
3 ba
2 bay
Inspired home designs
Check out quality layouts that may be available for purchase at this community today!
1612
Single Family Home
1603 sq ft
4 br
2 ba
2 bay
1802
Single Family Home
1811 sq ft
4 br
3 ba
2 bay
2002
Single Family Home
2009 sq ft
4 br
3 ba
2 bay
Request Information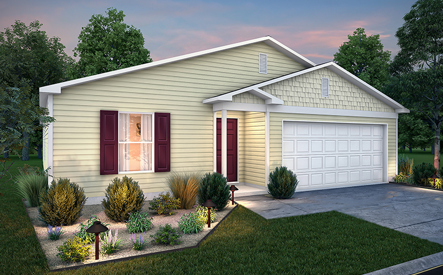 Tarkington Heights
Single Family Homes
12th St & Deer Trl
Connersville IN 47331